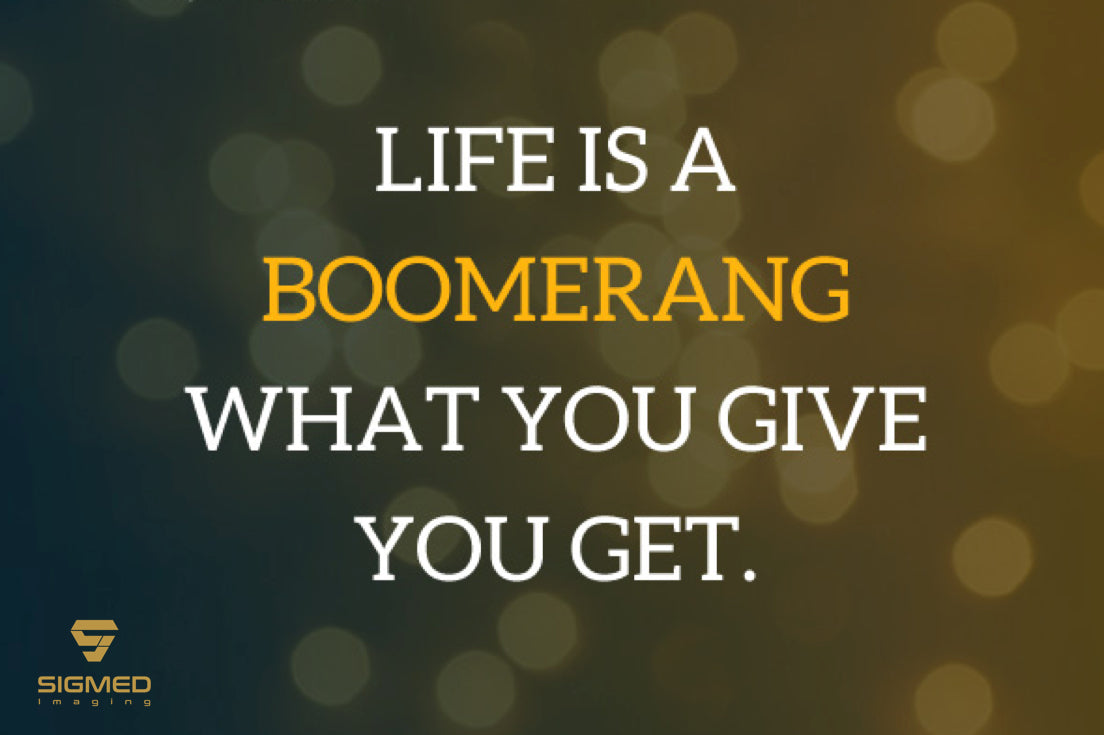 Life is a BOOMERANG - What you give you get.
What we put into life and others we ultimately get back many times over because it is in giving that we receive.
Call Sigmed Imaging: (321) 266-3650 for a quote, shipping information, or if you need assistance determining what part you may need to replace. All inquiries are welcome. For additional information on this GE part, call us now. Don't wait; we will be more than happy to assist you in every and any way. Sigmed Imaging provides CT scanner and PET scanner parts, equipment, and complete diagnostic imaging systems worldwide. We de-install, install, transport, purchase, and service GE CT and GE PET scanners. We have thousands of used and refurbished GE diagnostic imaging parts. 
With over 62 years of combined experience servicing GE CT and PET diagnostic imaging systems, we understand the issues and hurdles to overcome bringing your system back online. We are no-hassle GE parts, systems, and service company that quickly delivers worldwide shipping and best-in-class service. For everything you need with GE CT and PET systems, we are confident we can provide a solution to maintain maximum uptime for your company's success.
Let us be your go-to GE diagnostic imaging part company for your GE CT and PET/CT diagnostic imaging systems. Ask about our comprehensive service solution, "Sigmed Select Gold," or hire us on a time and material basis. We are flexible and promise to find a custom solution for you and your company.
Try us once; use us for life. Call or email us at info@sigmedimaging.com
About Sigmed Imaging:
We sell CT & PET/CT Parts & Equipment, with aggressive pricing-delivering Services & Training the way it should be; no Hassle, Reliably & Fast. Our straight forward attitude delivers the highest quality service. Try us once, use us for life!
Starting as a small business in Melbourne, FL in 2013 we had big dreams. Our passion for CT & PET/CT parts, equipment and service, means that we provide our customers with nothing but the highest quality products, that are guaranteed to meet your needs and keep you satisfied and your business running. 
With a motivated team, we strive to be the technical minds that bring a smile to your face. That's why we're always looking for innovative & new ways to get the best of what we offer to you.
Sigmed Imaging provides high quality reconditioned and used medical imaging equipment to hospitals, imaging centers, and private medical practices. We deliver complete solutions to our customers across the United States and the world. We have developed a reliable and committed network of dealers and certified engineers for CT, and PET/CT modalities. In every relationship we deliver quality solutions that are easy to use and cost effective. With more than 62 years of combined GE diagnostic imaging systems we provide expertise in product and service knowledge across a depth of customers types, geographical locations and needs.
Leading Sigmed Imaging is Pete McCallan, CEO, who started his diagnostic imaging career with GE in 1986. Pete was a Senior Field Service Engineer installing, de-installing, upgrading and repairing CT Scanners, MRI's and PET Scanners while excelling in the challenging rapid-fire environment of NYC. Pete continued with GE between '94-'13 rounding out his full spectrum knowledge base across the diagnostic imaging field, acting as a National Support Engineer for the most difficult challenges. After leaving GE Pete founded Sigmed Imaging and with 36 years under his belt there aren't many situations he hasn't addressed. Skilled in Medical Devices, HL7 Standards, Six Sigma, Healthcare Information Technology (HIT), and Manufacturing Pete and his team continue to leave a strong imprint on the industry.
#payitforward #CT #CTscanner #CTscan #PET/CT #diagnosticimaging #PETscan #PETscanner #GEscan #GEscanner #GEdiagnosticimaging